Badger Farms: A Multi-Purpose Event Venue
Your Next Venue for a Barn Wedding, Reception, Corporate Meeting, or Special Event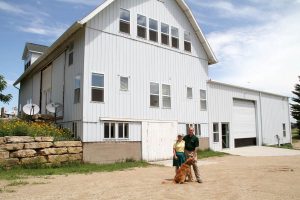 Badger Farms, LLC is a locally owned and operated wedding barn, custom farming and special events facility (i.e. banquets, reunions, gatherings, meetings, etc.), just minutes from Madison Wisconsin.
From the moment we opened our doors in 2006, Badger Farms has been a popular venue for a number of different types of events:
Barn Weddings, including both Traditional Weddings (up to 200 guests) and Mini Weddings (up to 30 guests)
Wedding Receptions
Corporate Meetings
Strategic Planning Retreats
Special Events (Birthdays, Anniversaries, Family Reunions, High School Reunions, Proms, etc.)
Private Dinners
We've gained popularity through positive word of mouth from our delighted customers, and continue to work hard to make sure all our guests leave Badger Farms happy and with their hearts full. We strive to make events at Badger Farms one of your life long memories.
Not Just A Wedding Barn – Badger Farms is a Real, Working Farm
Not only an event venue, Badger Farms is also a working farm, which makes our facility well-liked in the agricultural community. Most of our 500 acres are covered in marsh hay and sold to local farmers by the bale or on a contracted basis for the season. Badger Farms can tailor a custom farming package based on your hay needs.
Come Explore All That Badger Farms Has To offer!
By offering these services (special event venue and farming services) to the Madison, Wisconsin area, Badger Farms is an important asset to the local farming and construction community. Our goal is to give our customers and clients the personal attention they deserve.
For more information, please reach out!
You can visit our Contact Form here – Contact Us!
Recent News
Friday, July 28th Badger Farms - a barn wedding and special events venue minutes from Madison, WI - will unveil its newly updated website. Badger Farms has been working hard to deliver site visitors with a beautiful, romantic, and accurate take on events that occur on the property.
Wedding Testimonials
"Thank you so much for all you did to make our wedding day logistics run smoothly. You really have a special place for those of us who like to find that spot that's unique and packed with character!"

– Jamie & Tony (2009)

"We want to thank you for our wonderful wedding and planning. You are great to work with, helpful, generous. We are so happy with how our wedding turned out, and had so many compliments about you and your farm."

– Emily & Michael (2012)

"Thank you very much for helping make our wedding so wonderful! You are great to work with and have made this so simple for us. We are so thankful to have found your amazing barn!"

– Hannah & Austin (2015)

"I just want to thank you again for all you did to help with our beautiful wedding! You both put a lot of time/work into the preparations and it showed. I can't imagine it any other way."

– Jamie & Buck (2013)

"Thank you so much for making our wedding such a success! You both really helped us in so many ways-we truly appreciated everything you did for us on our special day."

– Kelly & Nick (2012)